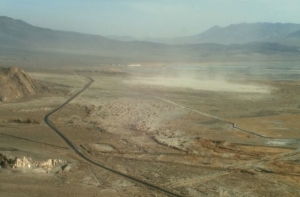 The ongoing effort to develop a Master Plan for Owens Lake is one of the most important, but least-reported, news stories in Inyo County. Unfortunately, negotiations are not going well. Several local environmental groups seem to have decided to accept whatever terms DWP dictates in order to get an agreement to protect bird habitat at the lake. As a result, the draft Master Plan released last year would protect birds and put more water down the aqueduct, but wouldn't protect ranchers and the environment in the rest of the valley. Previous Inyo County leaders weren't effective advocates for the entire valley against this unlikely DWP-environmental group alliance.
The Owens Lake Planning Committee met recently (Jan. 28) and I attended as an observer. At this meeting DWP distributed an ultimatum: a list of seven "objectives and components" that DWP "must have" in the Master Plan. The list includes at least a 47,500 acre feet/year increase in water exports to Los Angeles, new groundwater pumping, and a "Lawfully established limit of 45 square miles of dust controls that Los Angeles is responsible to construct and maintain." This is a back door way of forcing Planning Committee members to accept DWP's legal position in its outrageous lawsuit against Great Basin Unified Air Pollution Control District (GBUAPCD) and Ted Schade.
Given GBUAPCD's effectiveness in protecting Owens Valley residents and their environment, one might have expected environmental groups and the county to reject this ultimatum outright. They didn't. The Eastern  Sierra Audubon Society representative actually accepted the 45 square mile limit without hesitation, as did Supervisor Linda Arcularius (though she stated that she spoke for herself).
Former Agricultural Commissioner George Milovich took the ecologically informed position that the plan should consider the lake in the context of the entire valley, and that the rest of the valley shouldn't be sacrificed for the lake. He cited ranchers being dried up by DWP to supply water to the lake, and he could have also cited over-pumped wellfields. Environmental groups maintained their alliance with DWP and ignored his comments.
The ES Audubon Society representative asserted that DWP's ultimatum couldn't be treated as an ultimatum even as he acquiesced to it. I suggest Inyo County do the opposite. Inyo should recognize DWP's ultimatum as the ultimatum it clearly is, and reject it. This would effectively extricate the county from these counterproductive negotiations, which could possibly end current negotiations entirely. Let's hope our new Board of Supervisors will have the backbone to do this (and not be unduly swayed by Supervisor Arcularius's personal acquiescence to DWP).    When DWP's lawsuit against GBUAPCD is concluded negotiations can start over under our new county leadership and, I hope, new leadership of environmental groups.
Daniel Pritchett Bishop, CA