Press release
Lone Pine, CA – On an unusually warm autumn weekend, Composer Bryan Curt Kostors walks along the dried dirt and mud of current-day Owens Lake, California.
He is working on the film component of his new piece, To Dust, and he and the film crew are doing everything they can to accommodate the twenty-mile-per-hour gusts of wind and blowing sand in order to catch the stunning and characteristic light of sunset across the Owens Valley.
The goal of this challenging work is to capture images for the visual component of Kostors' new orchestral composition. To Dust will not only be a work for live orchestra, but will also include film, graphic design, photography, and animation that will be projected live during the world premiere next January with the Downey Symphony Orchestra and conductor Sharon Lavery.
To Dust tells the story of an important part of the California Water Wars: the draining of Owens Lake by the city of Los Angeles after the construction of the Los Angeles Aqueduct in 1913.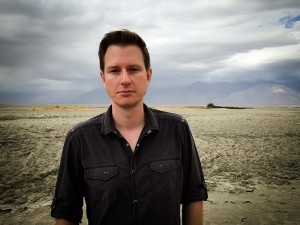 Where there was once a large, shallow lake that supported boating, ferries, birds, natural vegetation, and people, there now sits an expanse of dried dirt, mineral deposits, and dust. This dust, combined with the winds of the Owens Valley, makes dry Owens Lake the single largest source of particulate air pollution in the United States.
The city of Los Angeles continues to export Owens Valley water to this day; Owens Lake stands as a stark reminder of how significantly our actions to export and allocate natural resources can impact and severely damage the world around us that we call home.
Concerning this new work, composer Bryan Curt Kostors explains that "the arts – and music and film in particular – give us an opportunity to experience everyday things in new and thoughtprovoking ways."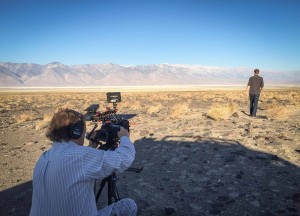 He says that the combination of live orchestral music and visual projections will "present an aural and visual landscape within the theater that connects audience members to the real landscapes of Owens Lake and the Owens Valley; this connection from Los Angeles (where the premiere will take place) to the water source is an incredibly important one."
Kostors will be joined on the project by other artists, including filmmakers Michael Pietrobon and Samantha Young, who both keep a residence in Lone Pine, California.
The project is complex, in that it will combine music composition, live performance, on-location filming, editing, and post-production work that includes visual effects and design.
Because of all these elements, Kostors has put together a crowd-funding campaign on Kickstarter, where anyone who would like to support the creation of the work and be part of its premiere can donate and help out. Those that decide to donate also will receive rewards such as signed editions of the score, copies of the music and film, photography, tickets to the show, and more.
Kostors hopes those that are interested in this story and would like to see it presented in a new and artful way might be inclined to help, noting that "connecting with like-minded people and fans with a Kickstarter campaign is, of course, a method to raise funding, but also a great way to build a community of people that share a passion for something important and meaningful."
The Kickstarter campaign is going on now, and concludes on November 18th. Those interested in learning more about the project can make a donation via Kickstarter at www.kickstarter.com/ projects/bryancurtkostors/to-dust and can visit www.bryancurtkostors.com for details.
###
About Bryan Curt Kostors: Bryan Curt Kostors is a composer of diverse and evocative music for orchestra, band, choir, chamber groups, soloists, film, multimedia, and dance.
The drastic and contrasting landscapes of the American West – desert, basin and range, high mountain peaks, ocean coast – play a prominent role in Kostors' music, and especially the unique locations surrounding his home in the Owens Valley Region of California.
His works have been performed in places such as Los Angeles, Las Vegas, New York, and Seattle, and his piece Land of Little Rain recently had its international premiere in Wuhan, China by the Wuhan Philharmonic. Kostors is currently studying at the University of Southern California for a doctorate in music composition, and splits his time between living in Los Angeles, CA, at the outflow of the LA Aqueduct, and in the Owens Valley in Independence, CA, at the intake.