Inyo County Sheriff's Office press release
This year's historic snowpack in the Sierra has delayed trail accessibility for many outdoor enthusiasts hoping for spring and early summer hikes. Many trails that were easily accessible during drought conditions are still covered with snow and ice, especially at higher elevations.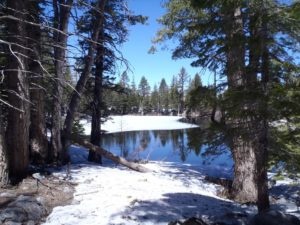 Due to the extreme snowpack and melting conditions hikers should expect unstable snow conditions with snow chutes and sudden changes in stability. Experience and technical gear (ice axe and crampons) are needed for safe hiking at higher elevations.
If you are planning to hike in the Sierra please keep these safety tips in mind:
·         Do not walk on high altitude lakes that appear to be frozen; the ice is unpredictable and simply not safe.
·         Glissading is strongly discouraged – injuries are common due to uncontrollable speeds and large obstacles (rocks, people, and trees); current snow instability is also a significant concern.
·         If you are hiking with a group – DO NOT separate. Ever.
·         Have a hiking itinerary that you stick to, and make sure you provide your itinerary to a non-hiking friend or relative, so IF something were to occur, search crews know where to look.
·         Be prepared, have the appropriate gear – and know how to use it.
·         Conditions change often in the backcountry. Monitor the weather, and be prepared for anything. If conditions indicate that lightening may occur, consider postponing until more favorable weather returns. If you are caught in lightening find a safe spot, avoid high places, high objects, lone trees, metal objects, open places and open bodies of water.
·         Consider hiking with an avalanche beacon. Eastern Sierra Avalanche Center is a great resource for winter and early spring; however, the reporting season has officially closed for 2017.
·         Have a Plan B hike in mind at a lower elevation, so you can still enjoy the great outdoors if bad weather or snowy trail conditions are present.