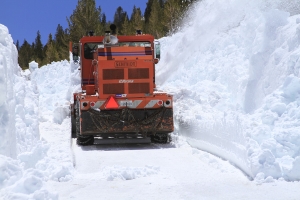 Tioga Road to Open in Yosemite National Park
Visitors urged to take safety precautions while traveling on road
Yosemite National Park Superintendent Don Neubacher announced today that the Tioga Road will open for the season on Monday, May 7, 2012 at 12:00 p.m. for all vehicle traffic. The Tioga Road, bounded on both sides by State Highway 120, is the popular east-west crossing of the Sierra Nevada.
Vault toilets are available in several locations along the road.  However, due to damage sustained to two transmission lines, the Tuolumne Meadows area will be without electrical power and visitor services until repairs can be made.
Due to a light snowpack this past winter (approximately 50% of normal), the Tioga Road was able to be cleared of snow early into the summer season.
Snow and icy conditions may still exist on hiking trails at the higher elevations.  Visitors are urged to be prepared for snowy conditions and possible treacherous stream crossings while hiking the backcountry.
All campgrounds along the Tioga Road are closed.  All commercial services, including the gas station, store, and village grill, are also closed.
There are no anticipated opening dates for any of these facilities at this time.