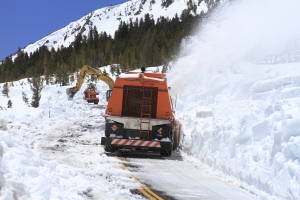 First reports indicated that the National Park Service would not be able to open Tioga Pass Road before Memorial Day because the so-called Sequestration budget cuts in Washington, D.C. took $2.4 million out of the Yosemite National Park budget. Mono Supervisors went to work to press for an earlier opening. Word came out Friday that the pass is now "anticipated" to open May 11th. (Caltrans press release below)
Both Supervisors Tim Alpers and Board Chair Byng Hunt informed Sierra Wave Media of the good news. Alpers said that Yosemite officials told him they anticipate the opening of Tioga Pass by May 11th. He said they are now concentrating on clearing Glacier Point and Mariposa Grove since they are high priority visitation areas.
Alpers said Park Service crews will start clearing Tioga Road April 29th from Crane Flat to the East. He said the crews have checked out Glacier Point and potential danger spots. Alpers said he was told there are "minimal to no avalanche areas." The low snow this year will make clearance of the road easier.
Barring unexpected additional snow storms, the Park Service now says they can handle the clearing of the pass road without help from Mono County road crews or CalTrans. That's good financial news for both agencies.
Alpers said the weather looks like it will remain clear, but this time of year, he said, you never know. The Mono Supervisors remain supportive of signing a cooperative agreement with Yosemite on an annual basis to help clear the road, which is an important route for tourists to travel into the Eastern Sierra.
When Yosemite initially said they could not open Tioga Pass until after Memorial Day, Tim Alpers contacted the Park Superintendent to say the economy has already suffered in Mono County, as in many places. He told the Yosemite official that late opening of Tioga would add to the problems.
SR 120 West – Tioga Pass Road open to the Park Entrance Gate
Mono County – The California Department of Transportation (Caltrans) has re-opened State Route 120 (west) – Tioga Pass Road, to the East Yosemite Park Entrance Gate.  State Route 120 is closed beyond this point.  Users can access State Route 120 for recreational activities from the junction of US 395 at Lee Vining up to the park entrance closure gate.
Caltrans crews responsible for the pass opening extend their best wishes for safe summer traveling to those who enjoy the recreational opportunities this part of California has to offer.
This partial opening is dependent on favorable weather.  If the area is impacted by inclement weather Caltrans may have to re-close the highway.  Please check local highway conditions before you begin your travels.
For the latest in highway information please visit Caltrans QuickMap site at quickmap.dot.ca.gov or call our Road Condition Hotline at 1-800-427-ROAD (7623).