With this latest round of storms, the National Park Service has officially closed highway 120 over Tioga Pass for the season. This should come as no surprise to anyone in the Eastern Sierra. The road has been closed since winter first arrived at the end of October.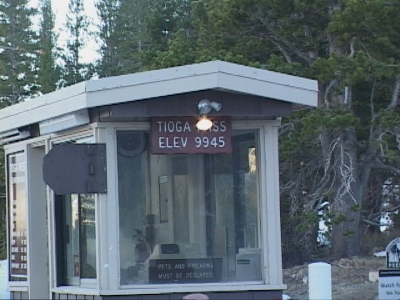 At over 9900 feet in elevation and a longer stretch of high altitude driving than other Sierra passes, this important road to the west side of the Sierra often shuts down early and opens late.
With warm weather in November there was some hope that the road might re-open. The Glacier Point Road in Yosemite National Park closed down after the first series of storms near Halloween, but melted out enough to re-open for a period in November. This was not destined to be the case for Tioga.
Park officials have now announced the official closure of the road until plows get to work in the spring.
While it took over a month for the final call, this is the third time since 1980 that Tioga pass has been closed in October. The road closed on Halloween 2003, and closed on October 17th of 2004.
Also Caltrans officials want to remind drivers that the Crestview rest stop between Mammoth and June Lake is now shut down for the winter. Weather permitting, the Crestview rest area is scheduled to re-open in April.