Press release
Captivating audiences from coast to coast, Tintabulations Handbell Ensemble returns to present their 2017 Spring-Summer concert series, "Cam-pa-no-lo-gy, the art or practice of bell ringing."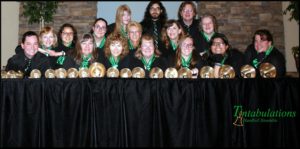 A homegrown community handbell ensemble, Tintabulations has grown from a small group of artistic director Barb Walsh's students to a nationally and internationally respected and sought after ensemble.
Ringing 'outside the box' their high level of energy and passion for what they do is a contagion unavoidably caught by audience goers.  Having been selected to perform the opening concert at the National Handbell Festival in Portland a few years ago, this past July they were chosen as one of two handbell ensembles to represent the United States at the International Handbell Symposium in Vancouver, BC.
Having toured nationally, regionally and locally, most recently they performed on Easter Sunday to an audience of over 300 as part of the 'In Concert Sierra' concert series in Grass Valley, where the most recent concert before them was performed by the Vienna Boys Choir.
A non-profit group, Tintabulations shares their innovative, creative, high energy and undeniable love of both music and handbells with their audiences.  Featuring soloists on percussion, bass guitar, bassoon, cello, viola and violin, come join them for an enthralling experience – all concerts are free of charge.