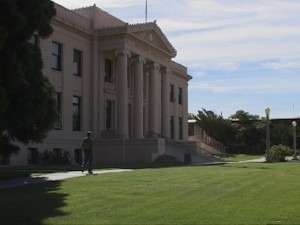 All ballots have now been counted in Inyo County with what County Clerk Kammi Foote calls the Semi-Official Summary Report.
The report says 4th District Supervisor candidate Mark Tillemans beat incumbent Supervisor Marty Fortney by ten votes. The count is 784 for Tillemans and 774 for Fortney. The 5th District race still has Matt Kingsley as the winner with 658 votes to Jim Gentry's 527 votes.
The Bishop City Council race shows more votes but no change in results. The winners are still Dave Stottlemyre, Laura Smith and Patricia Gardner. Stottlemyre with 724 votes; Pat Gardner with 659 and Laura Smith with 624.
A few more votes in the two school board races did not change results. In Big Pine, the three winners were Sandra Lund with 533 votes; Denelle Carrington, 490; Carla Bacoch, 458. Robert Vance had 377. For the Owens Valley School Board, Sandra Anderson and Aldene Felton were elected. Anderson won with 231 votes and Felton with 158. April Zrelak had 123 votes.
In Mono County, the Election results posted on the website remain the same with the Eastern Sierra School Board race between Pamela Haas- Duhart and John Peters still five votes apart. Peters with 786 votes and Duhart with 781. The 4th District Supervisor's race still shows Tim Fesko as the winner with 561 votes and Bob Peters with 484. The two Mammoth School Board winners are still Shana Stapp and John Stavlo.
For those who have asked, President Obama won in Mono County and lost in Inyo.