7pm: Due to the threat of thunderstorms over the next few days, the Inyo National Forest, in consultation with the Inyo County Sheriff's Office, will keep the Lone Pine Campground and Whitney Portal Road closed.
According to the National Weather Service, thunderstorms are predicted beginning Monday afternoon through Thursday with an increasing chance of heavier rains on Thursday.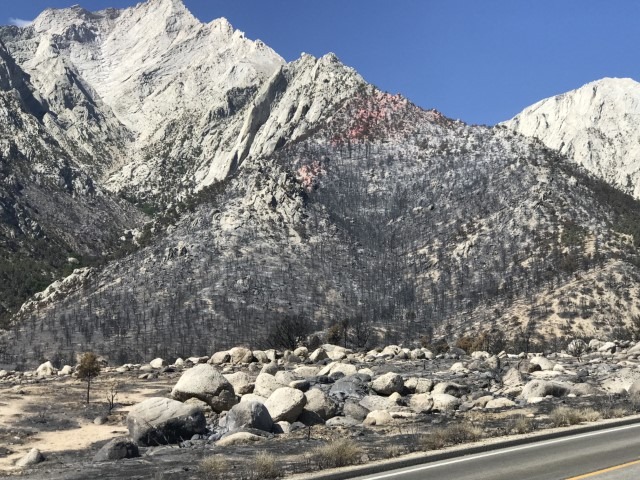 Heavy rainfall from thunderstorms falling on a steep, burned over slope may cause flash flooding and debris flows. The Lone Pine Campground lies directly below one of these slopes and is in a danger zone should such heavy rains fall over the Inyo Creek Fire burn area.
For additional information on the impacts of this potential event and for updated closure information, please contact: Inyo Creek Fire incident contact Colleen Pennington at (760) 878-8465 or stop in to the Eastern Sierra Visitor Center in Lone Pine 8 a.m. – 4:30 p.m. daily to speak with staff from Inyo National Forest.
For updates on the Inyo Creek Fire, please check InciWeb at: https://inciweb.nwcg.gov/incident/7564/.