In Mammoth Lakes, a three-year-old boy left alone in a running car managed to put it in gear and roll it 39 feet into a median bordering Highway 203.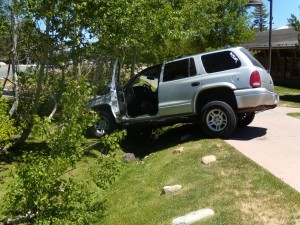 Mammoth Police Sergeant Doug Hornbeck said that a Mammoth man drove to the Bank of America, parked his car in the parking lot and left it running with a three-year-old boy inside. The man went into the bank. While he was inside, the child took action. Officer Hornbeck said a witness saw the child turn the steering wheel, apparently put the car in gear and then moved it forward.
The vehicle rolled forward out of the parking lot and over a railroad tie, over a sidewalk, 39 feet forward and into the median just off Main St. No one was hurt. Officer Hornbeck confirmed that the driver of the car took the child and left the scene although relatives drove him back to the scene about 10 minutes later. Hornbeck said he would ask for charges against the man involved, 23-year-old Sergio Madrigal of Mammoth Lakes. Charges include unlicensed driver, child endangerment, no child restraint, and unattended child in a vehicle.