Three Bishop women now face charges of sales and possession of methamphetamine. The Inyo Narcotics Task Force agents arrested the three on Friday.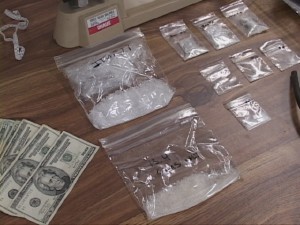 Agents served two search warrants on homes in the Bishop area – on Winuba Lane and North Sierra Highway. As a result, agents said they seized a substantial amount of illegal drugs and an undisclosed amount of cash.
The 100 dollar bills made quite the display at INET headquarters today. Also seized were night goggles and a police scanner.
The bags of methamphetamine lay at the heart of the case. 27 year old Fawn Culley, 46 year old Audrey Llamas and 27 year old Yvonne Fimbres face charges of possessio9n of drugs, possession of drugs for sale, maintaining a residence for unlawful activities. Culley faces a charge of manufacturing a controlled substance. Llamas and Fimbres face charges of child endangerment.
Agents made it clear that they will continue the investigation in this case. They revealed that they have withheld additional information to "protect the integrity of the investigation."