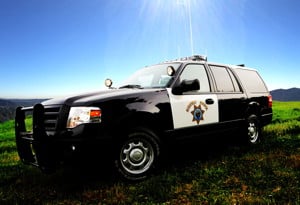 (press release) On Tuesday, July 15, 2014, at approximately 
3:32 PM
, the California Highway Patrol's (CHP) Bishop Communications Center received a 9-1-1 call of a three-vehicle collision that occurred on US 395, northbound, at Hot Creek Hatchery Road.  CHP officers and emergency personnel from the Long Valley and Mammoth Lakes Fire Departments, Mono County Sheriff's Department and Mono County Paramedic/Fire Rescue quickly responded to the scene and determined the incident involved minor injuries.
Mr. Theodore N. De Jony, age 67, of Coto De Caza, California, was driving his Silver, 2007, Toyota, 4Runner, eastbound through the "cross through" area at Hot Creek Hatchery Road, and attempting to continue traveling east, toward Mammoth Yosemite Airport.  Mr. Alfonso D. Pacheco, age 52, of Mammoth Lakes, was driving his Red, 1994, Ford, F-150 pick-up truck, northbound on US 395 approaching Mr. De Jony's location when Mr. De Jony's 4Runner entered the northbound lanes in front of Mr. Pacheco's pick-up truck.  The two vehicles collided, sending the 4Runner out of control and into the front of a large Fish and Wildlife truck that had been traveling westbound on Hot Creek Hatchery Road and had stopped for the stop sign at US 395.
The Fish and Wildlife truck was being driven by Patrick J. Quinn, age 29, of Mammoth Lakes, a Fish and Wildlife employee.  The Fish and Wildlife truck had one passenger and Mr. Pacheco's pick-up truck had two passengers.  Mr. Pacheco sustained minor injuries to his ankle and declined ambulance transportation to the hospital. Mono County Paramedic/Fire Rescue Medic 3 from Mammoth Lakes transported Mr. De Jony to Mammoth Hospital Emergency Department where he was reportedly treated and released.  Caltrans and California Department of Fish and Wildlife employees also assisted at the scene.  Alcohol and/or drugs are not a factor, and there is no indication any of the drivers were using cellular telephones at the time of the collision.  "This is a good example of a collision involving a lot of speed and force where everyone appears to have been wearing their seatbelt…and everyone got to spend the evening with family and friends telling their story" said Lieutenant R. D. Cohan, commander of the CHP's Bridgeport Area.