Three Bishop residents have been sentenced in a recent carjacking case. Assistant District Attorney Mark Johnson reports that Fernando Limon, Emma Denver, and Steven Ariaz pleaded to charges of carjacking tht stemed from an incident that occurred in May.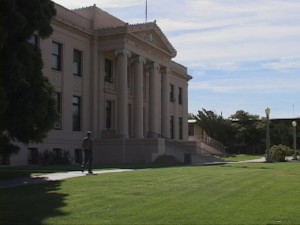 According to Johnson, the victim reported that he had given Limon, Denver, and Ariaz a ride to his house, where the assault occurred. The victim reported that he had been assaulted and placed in the trunk of his own car. The victim was reportedly being driven away, when he opened the trunk from the inside and escaped.
Why the victim was assaulted is unclear. Johnson says that at the time there was suspicion that there were drugs involved, but the victim said that he had disrespected, the three suspects.
The three were charged with carjacking, kidnapping, robbery, false imprisonment, and criminal threats. All three pleaded to charges of carjacking. Fernando Limon was sentenced to 5 years in prison. Emma Denver was found to have been to prison once before. She was sentenced to 6 years. Steven Ariaz served time twice before. He was sentenced to seven years in prison.