Tri-County Fair press release
Home, Home at the Eastern Sierra Tri-County Fair, where the kids and the families played, there were a few rain drops but few were discouraged and the mountains and skies were beautiful every day.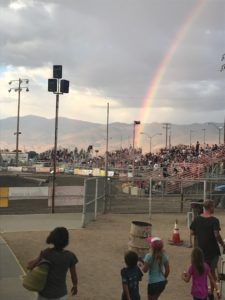 2017 Eastern Sierra Tri-County Fair, presented by Sponsors Coso Operating, Anne Marie's, High Country Lumber, Inyo County, KIBS/KBOV, Rollins Electric, Inyo County Superintendent of Schools, Cal Fire, Pizza Factory, Northern Inyo Hospital, Sierra Aviation, Alpine Signs, Paiute Palace, Tom's Place, Bishop Nursery, LA DWP, Inyo, Mono, and Alpine County Tobacco, The Toggery, Sierra Wave Media, Suddenlink, NiteOwl Transportation, Eastern Sierra Wholesalers, McDonalds, The Inyo Register, Mule Days, R & S Beverage, Roxanne Tallman, ICARE of the Eastern Sierra, Alpine County, Manor Market came to a close with a total of 26,280 guests who ambled , tromped and sashayed through the gates between August 31-Sept 3, 2017.
This year's theme, 130 Years of Fun at the Tri-County Fair (18th District Agricultural Association Birthday), gave fair goers a chance to learn and see memorabilia from the past.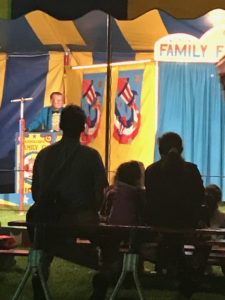 Thursday Tri-County Fair opened with Senior Day, Jersey Day, and Art on the Spot, Sneak Peek and the Cherry Pie Contest. The anticipation can always be felt as you wait for the ribbon cutting and the gates to open. Kids scramble to the rides, Seniors move on to the exhibits, pie entries go to the floriculture lawn…and so it begins and then the rain comes and everyone hurries into the Charles Brown to look around and visit.
The Charles Brown is lacking in Vendors this year with no shows…next year will be better. Thursday & Friday the East Arena was busy with Horseshow competitions. Thank you to Roxanne Tallman and volunteers for your many years of service.
Friday Journey Revisited was in the Picnic area by the barns! Free concert with Fair
admission was a great deal with a great concert.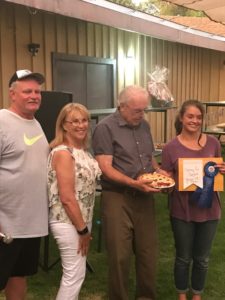 Saturday brought Kids Day, Cookie Contest, BBQ Contest, Junior Rodeo, and Open
Rodeo: Normally on Saturday there's a big show of kids for the kids day activities. This year the kids came much later in the day when it was cooler. Junior Rodeo was a success with over 200 entries, thank you Matt & Carolyn Yount for taking on this huge endeavor and thank you to the many volunteers and sponsors.
Thank you Jessica Tex for heading up the Open Rodeo and all of your volunteers! I realize the amount of work you all put into this event, it didn't go unnoticed.
Sunday brought Scholar Day with over 900 scholars from Inyo County here to enjoy the
fair & wristband special & Lions corndog & drink. Speaking of Lions they sold over 4,000 corndogs on Sunday!
Destruction Derby was next with a full house and the Bishop Fire Department putting on
a great show. The Tri-County Fair is honored to team up with Bishop Fire Department for this event.
 2017 Statistics
 2017 Total Attendance: 26,280
 Largest day attendance Sunday, September 3, 2017 9,073
Specialty Entertainment:
 Nature Joe's Reptiles: Nature Joe was truly a hand on experience for kids, teens, and
adults. Thousands of fairgoers enjoyed Nature Joe's Animal Ark Exhibit with snakes,
lizards, turtles, tortoises, insects and more. A great learning experience for all as Nature
Joe had several shows each day.
 Turkey Stampede: Oh my goodness if you missed the Turkey Stampede you really
missed out on a hilarious show, turkeys racing around the track after a remote
controlled RC truck filled with turkey treats.
 Puppets and Players drew a crowd as children and adults alike were mesmerized
watching the Wizard of Oz.
 Polly Bird Show: A full house at each show as Nancy Riegler had her silly singing and
talking performing parrots as well as high flying stunt birds perform.
 Prehistoric Adventures was a huge hit as families and children ran after the smoke
blowing life size dinosaur. Led around by his handler throughout the fairgrounds several
times a day made for great learning and picture opportunities.
 FFA Petting Zoo: As always the FFA petting zoo was a huge attraction to families. Thank
you to the FFA for the time and effort you put in to this great attraction.
As the 2017 Eastern Sierra Tri-County Fair has come to a close we realize there
Are many who have given much of their time, talents, and sponsorships over the last
several weeks/months we thank you. It takes the whole Tri-County to put on the Fair and
we are grateful to you.
There have been many changes over the last few years. Our Board and CEO would like
to encourage our community to be involved with the fair. Please bring your suggestions but more importantly volunteer. Serve on a committee, volunteer with the fair or other events; help us to keep our Tri-County Fair not only fun but a community experience that we can all be proud of.
Thank you for your continued support of the Eastern Sierra Tri-County Fair.