By Deb Murphy
The 205 kilowatt solar panel array at the City of Bishop's wastewater treatment plan was commissioned at 10 a.m. Tuesday and officially turned on. The meter is now spinning backwards at this, the third Bishop renewable energy project.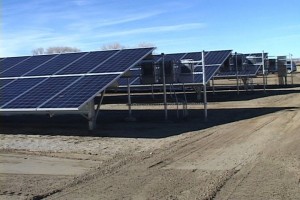 Two arrays at the City's Wells 2 and 4 were commissioned last month. The same team of contractor Performance Contracting, Inc. and consultant TerraVerde Renewable Partners worked on all three. "So, we didn't anticipate any problems" with the third and final project Public Works Director Dave Grah said.
The Eastern Sierra Energy Initiative, a SCE/local government partnership, worked with the City to identify that a large portion of its electric bill was for the waste water treatment, according to Rick Phelps. The non-profit also helped with timely communication with Edison.
The project cost $600,000 and is anticipated to save Bishop $60,000 a year. At the treatment plant's brief completion ceremony February 9, the City received a $168,000 rebate check from Edison.
In addition to the financial advantages, the solar projects will reduce carbon dioxide emissions by roughly 470,000 pounds a year.