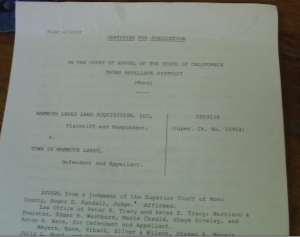 Mammoth officials and members of the public still reeling from the hands down defeat in the Third District Court of appeals on the Hot Creek development. The judges stated that "none of the Town's contentions has merit." Today, more about that.
Hot Creek and the Town of Mammoth signed a development agreement in 1997 that included rights for a hotel/condo at Mammoth Airport. Nine years later, developers wanted to move forward but town officials said the FAA had problems with a hotel at the airport. Finally, Hot Creek sued the Town for breach of contract.
Attorneys for the Town argued that Hot Creek failed to go through administrative processes to resolve issues. The Court of Appeals said there was no project or application on file to take through the processes. They said the issue was a simple contract matter.
The Town also argued that FAA restrictions on the hotel kept them from moving ahead with the hotel project. The judges said that doesn't wash because the Town had complete control over whether they dealt with the FAA.
The Town argued that FAA rules are hard regulations that must be obeyed. The judges said the rules were attached to grants and not independent laws. The judges also said that a resolution of FAA issues was not a condition for performance in the signed development agreement.
All of what unfolded between the Town of Mammoth and Hot Creek went on over a nearly ten year period. Airport expansion was considered a goal all along, but how did the Town get into a conflict that has led to a $30 million judgment and will Hot Creek developers consider a settlement at this point? Questions with no answers yet.