FOR IMMEDIATE RELEASE
Memorial Day Weekend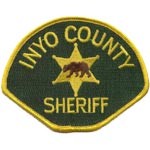 Memorial Day weekend in Inyo County is synonymous with outdoor fun!  The Sheriff's Office wants to remind everyone that recreating responsibly, which means extra vigilance in fire safety measures as well as water conservation, is critical.  Never leave campfires unattended, and always contact local law enforcement or call 911 if you believe a situation is urgent or could become potentially dangerous. For many helpful tips on fire prevention, including defensible space, please visit CALFIRE's Fire Prevention tips at: http://calfire.ca.gov/fire_prevention/fire_prevention.php.
Long holiday weekends are also associated with parties, barbeques, and celebratory events – please be responsible when enjoying the weekend festivities.  Drinking and driving never mix.  Please arrange for a nondrinking driver if you intend on drinking at a party or event – or simply walk.  If you notice someone driving recklessly, contact local law enforcement or dial 911.
Lastly, as you enjoy the weekend festivities with family and friends please keep in mind that Memorial Day, which is observed the last Monday of May, commemorates the many men and women who have died in service to protect our nation.  The Sheriff's Office encourages all residents and visitors to pause at 3:00pm on Monday for the National Moment of Remembrance; this historic moment of silence gives everyone the opportunity to reflect and pay tribute to fallen soldiers.
Stay safe, stay vigilant, and have a great Memorial Day weekend!