National studies show that when people in a community shop at locally owned stores the economy prospers. An estimated $68 out of $100 spent stays in the hometown. Those dollars circulate and support medical, personal, repair and many other services.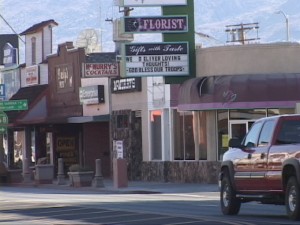 So, when the Sierra Business Council looked at their mission to bolster the economies of the Sierra region, the Think Local First campaign came naturally.
I caught up with Mary Canada, local representative of the Sierra Business Council and Lynne Almeida, local business owner.
Mary explained the SBC mission which is to "enhance the social, natural and financial capital in the Sierra Nevada for this and future generations." Canada said the Think Local First idea fits well with that mission. Canada is working on establishing member organizations in Bishop and Mammoth for the Think Local First movement.
Spellbinder Bookstore owner, Lynne Almeida knows by front line experience about local shoppers. She agreed that there are lots of reasons to chose local shopping gas prices make travel much more expensive and locally infested dollars build home base.
Mary Canada will spend time in Bishop to introduce business owners to the Think Local First campaign. A Bishop Think Local First group has started to form, so stay tuned.