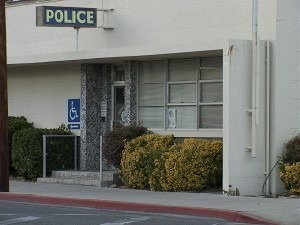 *******************Press Release************************
May 2, 2013                                                                           Prepared by:  Chief C. Carter
At approximately 4:30 AM on Tuesday morning, May 2, 2013, an Officer on patrol in the area of the 600 block of Grove St. heard the sounding of a vehicle alarm.  The Officer began to check the area and noticed two subjects who immediately began to run from the Officer.  The Officer called for assistance and began to pursue the subjects on foot, eventually to the area of Bishop Union High School.  Despite assistance from the Inyo County Sheriff's Department, the subjects were able to elude capture.
Further investigation revealed that several vehicles in the area had been rifled through and some items stolen from at least one of the vehicles.  No one in the area called in the sounding alarm and the vehicle owner did not hear it either.  The investigation also revealed that all of the vehicles had either been unlocked or had the windows rolled down far enough to allow the suspects to easily gain access to the vehicles and their contents.  The investigation is on-going and the Bishop Police Department will continue to seek information regarding the identities of the perpetrators.
The Bishop Police Department is asking people to please take steps to reduce their chances of becoming a victim of this type of crime.  Vehicles should be locked and secured, even if parked in the driveway.  Do not leave your keys or high value items such as cameras, laptops, cell phones, tools, and sporting goods inside your vehicle if you don't have to.  If you must leave these types of items in your vehicle, try to conceal them from plain view.   Unlocked vehicles with valuable items in plain view are an invitation to thieves.  While Bishop is a quiet and safe place, we are not immune from crime.  Recent events and arrests in the area suggest that there are persons from outside our area who come here and engage in criminal acts.
Anyone with information related to these or any other crimes is asked to call the Bishop Police Department at 760-873-5866 and help us keep Bishop a safe place to live and visit.