The Owens Lake with water in it, news flashes on our water headed to Los Angeles. A new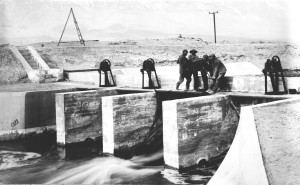 photo exhibit at the Eastern California Museum reveals the way it was from 1908 on.
That was the era of the construction of the Los Angeles aqueduct from the Owens Valley and plans for water export from the Mono Basin. Museum Administrator Jon Klusmire said that 2008 is the 100th anniversary of the start of aqueduct construction. "The museum will mark that occasion with several exhibits and events in the coming year."
You can also check out local news reports of the time. W.A. Chalfant and Harry Glasscock, Owens Valley reporters, told the sad truth about a dried up valley following the aqueduct and water export.
The Eastern California Museum is located at 155 N. Grant St., three blocks west of the courthouse in Independence. Open 10am-4pm. Closed Tuesdays.