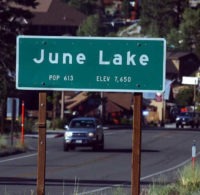 "The Walking Vaccinated? A band concert held in June Lake may hold key to opening of many venues.
It was recently reported by the Mammoth Times in an article by reporter Wendilyn Grasseschi that the T-Bar Social Club in June Lake held a concert on Friday night, May 7, by a popular cover band, The Nomads, from Lake Tahoe. The cover band is known for performing songs by such bands as Led Zeppelin, Joan Jett, AC/DC, Black Sabbath, Heart, Rolling Stones, Stevie Nicks, Tom Petty, Van Halen, Judas Priest, Aerosmith, The Scorpions and others.
While the list of songs performed by the band is much the same as what many other cover bands might play, what made this particular concert different wasn't so much the music chosen as much as the precondition that a "proof of vaccination" was required from an easily downloadable application on your smartphone if you planned to attend. The Bindle application essentially provided the concertgoers an "E-ticket" allowing them to the concert held on Friday night. There is a small fee to use the app. More information on the Bindle app can be found at their website, joinbindle.com/.
That it was a business in June Lake that would be the first to take advantage of the application is not surprising. Both June Lake and the Town of Mammoth Lakes' economies were hit hard by the pandemic restrictions and shutdowns, and early in the pandemic were the worst hit per capita areas in the country, although it did not take long for other areas around the state and the country to catch up and surpass the town's dubious achievement in that area.
What is especially notable in that the concert preconditions on concertgoers is a likely precursor to what will soon become common, whether you want to attend a group outing, concert, attend a college, or possible use a commercial airplane or other mass form of transportation.  And that it will be an easily accessible phone app that can be used to provide proof that you have taken the Covid-19 vaccine and therefore are "essentially safe" to be around in a social or public setting.
According to its website, "Bindle is an easy, secure way to safely return to shared spaces using COVID-19 test results and vaccination records. The app creates scannable entry passes without revealing sensitive personal data or health information.  Since users control their own data, businesses are freed from navigating HIPAA compliance regulations." Legally, that last part is vitally important. The user of the app is voluntarily providing the information…whether the like it or not! You don't have a constitutional right to go to a music concert and you certainly don't have a right to purposefully expose others to what is a proven and sometimes deadly virus. Anti-vaxxers will not be happy, but those that welcome the vaccines and are grateful for them, will applaud the effort.
And there is little indication, despite lower numbers of infections and deaths, that Covid-19 will not be around for months longer, perhaps years…and may in fact become an annual event much like the flu season, except that it is far more deadly and contagious than influenza.
It should be said that the T-Bar Social Club did its "due diligence." They reportedly took a look at the 60 bands that had played there and asked them their "vaccination status." They chose The Nomads to play based on the responses they received.
Sierra Wave is looking into how well the event went for concertgoers. If you were there, we'd like to hear from you, what you thought about the process, and how did you like the concert. This particular approach to staging a concert or other public events may well become the "new normal.