A powerful system has pounded California and the Eastern Sierra with unprecedented December snow and rain. Mammoth Mountain reports that snowfall has set a new record for the snowiest December. 149 inches have fallen on Mammoth Mountain so far and 74 inches at Aspendell above Bishop. Mammoth received over 10 feet of snow since Friday. According to skiinfo.com, Mammoth reports the deepest base of snow in the world with a base depth of 10 to 15 feet as of Monday. The snow continues mount.
With more than five feet of new snow in the town of Mammoth, it's been a dig-out couple of days. Lots of folks stuck in snow berms, spinning out. Mammoth Police said power outages were reported around town. Some in the Knolls area down for about 24 hours. Trees went down in places – one on Old Mammoth Road by Ocean Harvest.
Dan Brady of Edison said that trees did fall on power lines which caused power outages in Mammoth Lakes and in Swall Meadows. The snow is so wet and heavy that, as some call it, the Sierra cement takes a toll on trees, tree limbs and power lines. It takes a toll on people too. The rough job of digging out, dealing with no power and concerns about snow load on structures.
The snow took out power on some mountaintop communication sites like Silver Peak, which caused problems for broadcasters and apparently for some emergency communications.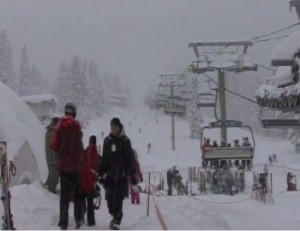 Dan Brady said Edison has brought up crews from Ridgecrest and Lancaster,, rotating them in and out to handle the many problems created by the weather.
According to the Town of Mammoth, the National Weather Service posted a Winter Storm Watch through Wednesday. More snow. The Eastern Sierra Avalanche Center says extreme avalanche danger exists for the Mammoth Lakes area and for all other areas in the forecast region.
Mammoth Fire Department sent out the word that several safety issues exist due to the weather. Watch for extreme snow load on roofs. Home owners, landlords and tenants need to make sure that vents for appliances remain clear of snow to avoid build up of carbon monoxide.
The tops of propane tanks need to be dug out routinely to allow for access to the shut off valve. Also make sure all exterior gas pipes are exposed. Make sure your home address remains visible, dig out fire hydrants near your home. Mammoth Fire has a special program for this. Call Jody Holl at the Fire Department – 934-2300.
In Inyo County the rain pounded down heavily for days with some minor flooding situations. Then rain turned to snow in many parts of the Owens Valley. Earlier warnings from scientists and meteorologists about the La Nina effect of drought and cold this winter disappeared beneath the record-breaking snow in Mammoth and drenching downpours in the Owens Valley.