The man known as the Sierra Phantom has died. Friends said JP Glover died Monday, Jan. 30 at the Bishop Care Center. He was 85.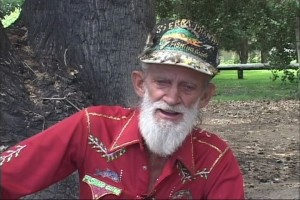 Those who knew Glover did not call him by his birth name – most never knew it. He was known as Sierra Phantom, a nickname earned after living 50 years in the wilderness of the Sierra Nevada.
Glover was born in Orange, June 20, 1926, to Eric and Heidi Glover, who both died when he was a toddler. He endured an unstable childhood, moving between orphanges and foster homes every few years, in California and Washington.
When he was 17, Phantom lied about his age to join the US Navy, with an itchto discover the world. He served as a World War II sharpshooter in Alaska for four years.
By the age of 21, the anguish of his childhood and the war drove Glover tochoose a life as a lone mountaineer. He set up inconspicuous camps through the High Sierra and lived apart from civilization, only visiting small mountain towns every few months to replenish his supplies.
In his mid-70s, Phantom moved into an apartment in Bishop, where he quickly became a local legend. He was often spotted sitting outside in front of Schat's Bakkery and Raymond's Deli, tying his self-invented flies for fishing.
When he wasn't tying flies, Phantom was using them to reel in a bounty of fish,which he often shared with his neighbors in need. He also served as a mountain and fishing guide, a job he saw an opportunity to pass along all he had learned in the wilderness to the generations that followed.
JP Glover will be remembered for his tales of survival in the wild, his ability to make fast friends with anyone willing to lean in and hear those tales, and the philosophy which he lived by – you're never lonely when you're surrounded by beauty.
Friends are planning a memorial for Sierra Phantom for a later time. ….