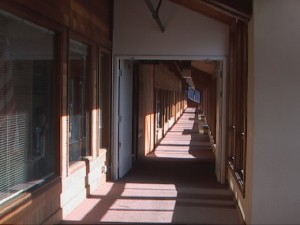 Even as headlines shouted that Stockton, California would file for bankruptcy by Friday, Town of Mammoth people suspected the same fate for their town next week.  Mammoth officials have not confirmed that they will file for Chapter 9 municipal bankruptcy, but short of a deal on MLLA's $43 million debt, bankruptcy seems the only choice. The many steps taken, including mediation, show that Mammoth officials have been carefully planning for potential bankruptcy for some time.
The Town of Mammoth did issue a press release to reveal with whom they have been in mediation. The big creditor, MLLA, has declined to participate. The 60-day mediation, as set out by State bankruptcy law, will conclude Friday, June 29 unless there is some reason to extend it.  Officials said that the Town "has been able to reach agreements with most parties."  Town officials also secured releases from creditors to make their names public. The information is posted on the Town's website.
The Town press release says that Mammoth has "sought agreements with its creditors in an attempt to restructure its current debts and obligations outside of bankruptcy, or pursuant to a Chapter 9 plan if a bankruptcy is commenced."  Regardless of the outcome of mediation and the status of agreements, Town officials say they plan to implement next fiscal year's budget which was balanced through the assumption that creditors would make concessions.
The list of creditors posted on the Town website includes all civilian employees.  Their signed deal calls for an 8% payment by employees into their own retirement, 2% cut of deferred compensation, a limit on the annual cash out of leave to 80 hours plus a recommendation for a 10% cut in pre-July leave balances.  Sworn employees have made a similar agreement with a 9% retirement pick-up and a 5% savings from discontinuation of a savings plan. The Police Department will lose one position plus the same items in civilian workers' agreement.
Mammoth School District is listed with a 10% reduction in lease payments for the ice rink. 10% funding reductions are listed for the Mammoth Chamber of Commerce, Bravo Gardens, Mono County Dispatch, Steve Searles, Mammoth Tourism, Mammoth Lakes Housing, Eastern Sierra Transit, and Mono County Historical Society.  The Town will cancel the County contract for the Whitmore Animal Shelter and the contract with High Sierra Energy Foundation.  A new agreement has been signed with Hot Creek Aviation, the FBO at the Airport.
Not participating in mediation was developer Terry Ballas, although discussions are under way regarding his remaining development rights at Mammoth Airport.
Also not participating in mediation were Minaret Village Center and Bradmont LLC, both of which hold leases on the Town Offices and Police Department. The California Joint Powers Authority did not mediate on a 10-year payment on past liabilities amounting to $1.4 million.
Most significantly, Mammoth Lakes Land Acquisition refused to mediate on their $43 million lawsuit judgment.
The Town's press release points to a proposed plan of debt adjustment to be filed with the Bankruptcy Court, say officials, if the Town determines to commence a Chapter 9 bankruptcy case.  All of this is available on the Town of Mammoth website.
The Town Council scheduled a special meeting for Thursday, June 28 at noon in closed session.  They will apparently discuss mediations and potential bankruptcy.