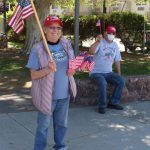 MAGA hats, flags and protest signs were prominent at the "Reopen Bishop" rally held last Friday in front of Bishop Park. While there were cars with horns honking in support as they passed, there were also a few drivers giving thumbs up or down, and some giving the occasional "finger," (a.k.a. the "California salute" or "flipping the bird") as well. Clearly, there are some significant differences of opinion by the public on how the state, federal and local governments are handling the coronavirus pandemic through public health edicts and executive orders. And, of course, some protesters had their own agenda.
Around 40 residents showed up at Friday's protest, including two Bishop city council members, protesting what many feel is "government overreach" in shutting down the economy by closing most small businesses and putting people out of work, while a few select businesses are allowed to remain open. There is considerable resentment by many small business owners and their employees on having lost their livelihood and being forced, in some cases, to rely on government or charity assistance.
It appeared that most of the protesters were small business owners and their supporters, expressing concern that they may well lose their businesses if the restrictions imposed by the state "Stay at Home" executive order issued by Governor Newsom on March 13, coupled with what many consider the  imposition of "draconian" public health orders, goes on much longer. Some businesses have already gone out of business and others may not be reopening.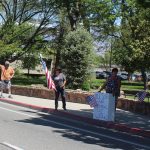 A few protesters expressed anger as well at the severe restrictions that have been placed on many of the local public lands, limiting citizens' movement and access in the government's efforts to contain the coronavirus pandemic.
One protester mentioned how she resented what she referred to as "COVID-shaming," especially online on social media, in an effort to make local residents feel "guilty or ashamed" for simply just being outside their homes. There appeared to be a few "Constitutional experts" in attendance as well, who feel that government officials are "hell-bent," as one protester described it, "on turning the country socialist."
About thirty minutes into the protest, some of the protesters worked their way down Main Street, waving their signs and American flags.
While the state executive order by Newsom was purportedly to ensure consistency throughout the state in dealing with the public health emergency, a major sticking point with many of the protesters is the inconsistent way in which the order has been implemented. Put simply, they hate it when others are treated differently or unfairly or given preferential treatment over others.
Protesters want to know why it is that gas stations, pharmacies, grocery stores, farmers markets, food banks, convenience stores, takeout and delivery restaurants, golf courses, banks and laundromats were allowed to remain open, while local restaurants and many other small businesses had to close? Why couldn't these small businesses that were closed been allowed to implement public safety protocols and remain open?
There are 58 counties in California, almost all them interpreting the executive Stay at Home order in different ways. Even many cities have different policies. Modoc County in Northern California (pop. 9,000) is allowing a" staged reopening," letting all nonessential businesses, schools, and public transit companies to resume operations on Friday; the first in the state to do so. Other small counties with low COVID-19 cases are planning to do the same. Some here in Inyo County feel the same about reopening local businesses here.
People are also clearly beginning to suffer from "coronavirus fatigue," a common result when a disaster or situation, goes on longer than most people are willing to tolerate. The question is: Are we there yet?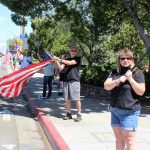 A disturbing aspect of the "Reopen Bishop" protest was that many of the protesters were not wearing masks or practicing social distancing, either because they do not believe the government's dire warnings on the danger of the coronavirus (i.e. that it is a "hoax")…or possibly they simply did not care. There was evidence of both sentiments made in comments from a few of the protesters.
One argument heard was that "We're all going to die from something anyway," although there was no response to the question of, "Who among your friends and family would you be willing to sacrifice so that you can enjoy your freedom of movement and continue to enjoy your 'constitutional right to go on living?'" Even the idea of Darwin's "survival of the fittest" was brought up by one protester.
Another protester said that "we have to stop this government from becoming socialist and giving everything away to people that don't deserve the help." When asked if they were going to cash the forthcoming stimulus check from the U.S. government, they remained silent. Socialism, it seems, does not exist when the government is giving you money, only when it gives it to others.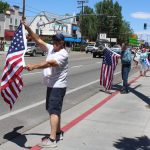 And then there were the usual references to the coronavirus not being any different than the flu that we experience every year. It is, in fact, very different. It is a "new virus" (hence the name, nuevo coronavirus 2019) and it is much more severe and deadly than the flu. Then there is the fact that people around the world have no natural or built up immunity to it, which is why it is called a pandemic.
Despite all the typical arguments heard at the rally that have little, if any, facts to support them, several things about the gathering are true:
People have a right to protest in this country whether others agree with them or not.
The "fairness" issue of why a select group of businesses were given preferential treatment to remain open during the pandemic is a fair question and should be addressed.
[As several business owners noted, most small businesses do not have hordes of customers inside their stores at one time; and that, given the proper guidance, most small businesses could implement safety precautions for their employees and customers on par with businesses that have been allowed to stay open.]
Probably the best argument made by protesters to "Reopen Bishop" is that the current situation simply cannot be sustained, socially or economically, for much longer. At some point, the question needs to be asked, "Have we flattened the curve with the measures taken, or have we merely extended it out for a much longer period of time? There is talk of a "second wave," and a return of the virus again in the fall, and the possibility that the coronavirus may become an annual event just like the flu is now. There is currently no vaccine and it may be many months or over a year before one is developed.
There are no easy answers. But nor is there any reason to not allow people to ask questions. There is one thing however that sticks out about protesters in Inyo County: They are some of the most polite and congenial people you can imagine being around…well, except for a few exceptions!