It came down to the wire, but Fish and Game does expect to be able to stock the Owens River and Convict Lake in time for the fishing opener.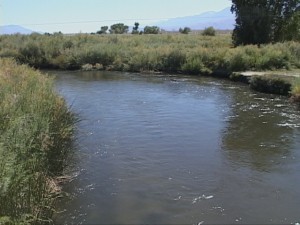 The annual opener, nicknamed Fishmas, had been threatened with a legal lump of coal by a lawsuit that required Fish and Game to run the entire state fish hatchery program through the California Environmental Quality Act process. The end result was that Fish and Game staff had to check over every body of water in the state looking for sensitive species. In the Eastern Sierra this meant making sure there were no willow fly catchers or northern leopard frogs in the rivers, creeks, or streams.
Most important waters like Crowley Lake had already been cleared for stocking, but until Thursday, there were some glaring omissions from the stocking list. Convict Lake, the Owens River in Inyo County, and Twin Lakes near Bridgeport had not been cleared, but now Fish and Game can plant trout in these waters. June and Gull Lake were added to the list of waters that can be stocked, though Silver Lake will be delayed.
With these waters cleared, most major waters will be stocked for the opener, but it has come down to the wire. Areas that were cleared for stocking on Thursday, like the Owens River section 2 between Laws and Big Pine, were set to be planted Friday. One hatchery official that we spoke to said, Everything that is cleared, we will stock. The Fish Springs Hatchery was scheduled to plant 15,000 pounds of trout this week, double a normal week.
Fish and Game staff had been pushing to get waters cleared for the opener. Brad Henderson with Fish and Game explained that the Owens River was one of the last to be cleared because that section of the river is so large, but now he says local waters, are looking really good.