By Deb Murphy
Just shy of four years ago, the Inyo County Board of Supervisors approved an abbreviated Adventure Trails program. Tuesday, the Board got a look at the numbers and impacts on those approved seven routes.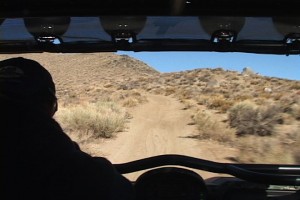 The concept wasn't so much increased use of the valley's open lands by Off Highway Vehicles but rather the use of non-OHV streets to access the designated routes. But, all the ire was directed at OHV activity.
The same can be said for public comments at Tuesday's review of the first real report on the program.
The report itself showed little negative impact on the seven designated routes. According to the Los Angeles Department of Water and Power, it was "not apparent the use of roads … have caused any visual impact on City property". The Inyo Sheriff's Department stated there were no accidents or complaints related to the project as did CalTrans.
According to a study conducted by Traffic Works over a November weekend in 2015 and again in December 2016, the majority of users on the specific routes were driving pick-ups or jeeps with an average of 100 total motorized users a day, during the study period.
Randy Gillespie, who developed the initial program with the late Dick Noles, was the first to speak at the public hearing. His biggest issue was the self-imposed limited pilot program. "Local businesses haven't seen much benefit," he said, "because the routes aren't close to towns."  
The Adventure Trails group has continued to provide signage and route information both for the Adventure Trails program and on legal off-road areas, Gillespie said.
Public comments were split between folks supportive of the program and those reporting abuses on trails, some of which weren't among the seven designated routes.
Doug Brown with campsites at Browns' Town and Millpond said the program seemed to be just starting to catch on. Former District 1 Supervisor Linda Arcularius wanted to see the seven routes put in the context of the original 36-trail program. "The program has great potential," she said.
Speakers who had run into problems with OHV use stressed the importance of education. Earl Wilson objected to the intensity of off-road light bars when vehicles drove into Lone Pine.
According to George McDougal with State Parks, $9 million in grant funds are available for off-road use mitigation, with a 10-percent match. He said 25-percent of those funds will go to restoration and 20-percent for law enforcement.
The report is now headed to the California legislature as a summary of the Assembly and Senate bills that put the program in place.