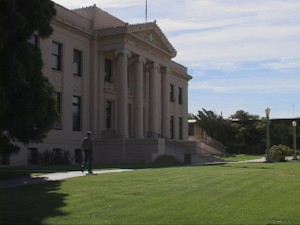 The embezzlement case of Dawndee and Kenneth Rossy continues through court hearings. The Rossys face numerous allegations involving embezzlement of welfare funds.
The most recent hearing was one to consider a defense motion to suppress evidence. The motion hearing concluded last Wednesday and defense counsel has until March 24th to file any final written arguments. The District Attorney then has until April 1st to respond. The Judge will issue a written decision.
Asked about the motion to suppress, District Attorney Tom Hardy said that it seeks to suppress a video recorded statement that Ms. Rossy made to investigators. The defense alleges that the statement was taken in violation of the Miranda decision. DA Hardy said, "The Peoples' position is that the law is clear that the Miranda decision only applies to situations where a suspect is in custody at the time of the questioning."
In this case, he said, Ms. Rossy was not in custody. The interview took place at a county office building, not a police station. Hardy said Ms. Rossy was free to leave at any time and, he said, she did leave the building after the interview and was not arrested until weeks later when the investigation concluded.
In other matters involving the Rossy case, the DA has set a trial date for October 6th. The defense has still indicated plans to investigate a motion to change venue, according to the DA. That motion has not been filed.
And in a completely separate case – that of Cherie LaBraque, a former Northern Inyo Hospital employee – it is set for a hearing April 7th. LaBraque faces 32 misdemeanor charges of knowingly accessing confidential medical records without permission. The hearing is on what's called a demurrer or challenge of legal sufficiency of some of the DA's complaint.