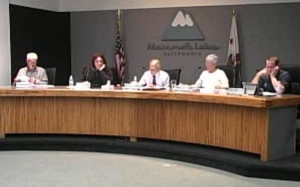 Apparently the Mammoth Town Council has kind of decided they like the guy they already have to stay on as permanent Town Manager. They will put together a contract for now Interim Town Manager Dan Holler and discuss it publicly February 19th.
The Council had debated, delayed and disagreed over hiring a consultant to recruit a permanent manager. So, finally Mayor Rick Wood said, "We heard the message that the selection process for permanent Town Manager should be transparent." He went on to say one way to do that would be to hire a consultant, but, he said, a majority of the Council are not supportive of that. Wood then switched to a different conversation. He advised consideration of hiring Interim Manager Holler as the permanent guy.
Wood then said he had gone so far as to have discussions with the Town Attorney and Holler about terms of a contract. Wood asked his colleagues to authorize crafting an agreement for "the Town Council and the public to discuss on February 19th."
Council woman Jo Bacon said she would like to see a contract with a "reasonable length of time and not a huge severance pay out clause and something that reflects a salary commensurate with the size of the town."
Mayor Wood saw the same opportunity to, as he said, revamp the compensation structure for "non-union personnel." Councilman Matthew Lehman said he agreed 100% on the severance pay which he said had been the "downfall for us over the decades."
All of the Council agreed to direct Mayor Wood and others to come up with a deal for Holler that would be open to public discussion.