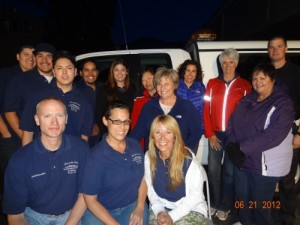 Mammoth Lakes Community Police Academy Graduation  (Press Release from Mammoth Lakes Police Department)
On June 21, thirteen members of the Mammoth Lakes community graduated from the Mammoth Lakes Community Police Academy.   The 14 Academy began on April 19 and the students met every Thursday night for the next 14 weeks.  The majority of classes were presented by the members of the Police Department.  The Academy included tours of the Mammoth Lakes Courthouse, the Mono County Jail and Dispatch Center in Bridgeport, and the firing range in  Bishop where the students got to fire various weapons.
The attached photo of the graduates, minus Quart Keyes, includes Academy coordinators David Scobie (lower left) and Daniel Hansen (upper right).