High winds turned the Owens Dry Lake ugly Tuesday. Russ Monroe captured the dramatic dust storm which prompted a Stage 1 Health Adviswory for Lone Pine. The advisory goes like this: 'Due to elevated particulate pollution levels, children, the elderly, people with heart or lung problems, or people with current illnesses such as the flu, are advsied to stay indoors and avoid strenuous outdoor activities in the dust-impacted area." Not pretty.
What was pretty in the Lone Pine area today – wildflowers and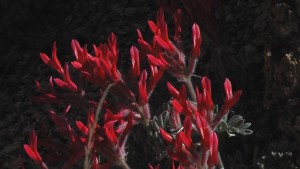 a lovely little herd of deer.