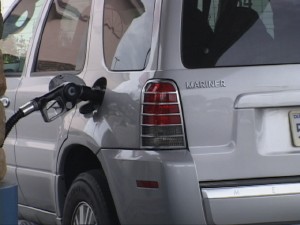 Eastern Sierra locals have begun to talk about gas prices again.  Prices at the pump went up recently.  Nearly 38 cents higher per gallon of regular in Mammoth Lakes.  Inyo County prices have edged up too.  National reports blame the oil producers of the world and their manipulation of supply.
Msn.com lists gas prices for Eastern Sierra towns.  Mammoth Lakes – $4.24 to $4.40 per gallon of regular unleaded; Bishop – $3.59 on the low end up to $3.89 per gallon of regular. Lone Pine – $3.69 up to $3.99 per gallon. Lee Vining shows $4.40 up to $4.70 per gallon, and Bridgeport at $4.70.
CNN news host Fareed Zakaria recently reported that the budgets of the countries that produce oil have gone up a lot.  So, to balance their national budgets, he said, these countries want to keep the price of a barrel of oil at a certain high level.  CNN reported that these countries have begun to control the supply of oil to keep prices higher.
Other factors that impact the price of gasoline at the pump are speculative investment in the oil market, taxes, refinery costs and dealer profits.  The Los Angeles Times reported that gas prices are 35 cents per gallon higher this year over last in California.
Consumption of gasoline has fallen.  According to the Times, U.S. drivers are burning about 36 million fewer gallons of gasoline a day than they did a year ago.  The Times also reported that last year was the first time that national averages for gasoline and diesel never fell below $3 per gallon.