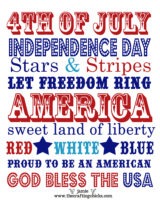 The Fourth of July in Inyo County
Here is a run down of July Fourth events occurring throughout the communities in Inyo County.
BISHOP – Fourth of July festivities have been planned throughout the day at Bishop City Park on Monday, July Fourth. Activities include:
• Noon, craft and food vendors open.
• 1-4 p.m., Free Swim Day in Bishop City Park Pool.
• 1 p.m., Free pie, ice cream and watermelon (until it's gone) served by Bishop City Council members.
• 4:30-5:15 p.m., Idle Hands String Band.
• 5:30 p.m., watermelon-eating contest, decorated bike and scooter pageant.
• 6:15 – 7:45 p.m., Sandy and The High Country Band.
• After 9 p.m., fireworks spectacular. Tune to KIBS, 100.7 FM for synchronized music.
BIG PINE – Big Pine will be holding a good old-fashioned family community barbecue picnic from 2 – 5 p.m. Monday, July 4, at Mendenhall Park on Baker and School streets. The menu includes tri-tip, beans, green salad, potato salad, carrot/raisin salad, garlic bread, cake and drinks for $12 adults; children 5-12 $6.;and children under 5 free. The day will also feature traditional adult and kids games with prizes: watermelon eating, greased pole, egg and balloon toss, tug-of-war and much more.
INDEPENDENCE – The Independence Fourth of July Parade begins at 10 a.m. Monday, July 4, on U.S. Highway 395, while activities in Dehy Park are planned throughout the day, including:
• 6:15 a.m., American Legion Flag Raising Ceremony
• 6:30 – 9 a.m., Lions Club Pancake Breakfast
• 8 a.m., Arts and crafts show – Courthouse Lawn
• 8:30 a.m., Commanders House History talk – meet at Dehy Park
• Noon Methodist Pie Social
• 1 p.m., Spelling bee
• 1 – 6 p.m., OV School Pool open for swimming
• 2 p.m., "Old-timey kids games"
• 4 – 6:30 p.m., Deep-pit barbecue
• Dusk, Grand finale fireworks at the Airport.