63 year old Steve Fossett, world-famous for his flying feats, remains missing after he took off around Labor Day for what he described as a quick flight toward Mono County. Now, agencies review what they found from searches and reluctantly continue to call off all search efforts.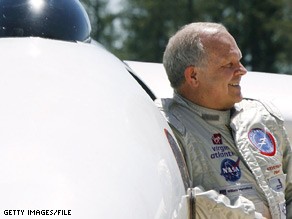 Local citizens wondered if some of the 6 crash sites discovered during the search were in Mono County. Sheriff Rick Scholl said that there were no new crash sites discovered in Mono but possibly some just over the county and state line toward Hawthorne, Nevada.
Sheriff Scholl said that today (Thursday), agencies and officials met at the Minden Airport to wrap up details on the Fossett search. The Sheriff said that it is still presumed that Fossett was flying toward Mono County. He said the last person to talk to Fossett was Barron Hilton's personal pilot. Hilton owns the Flying M Ranch from where Fossett took off.
Sheriff Scholl said that Hilton's pilot said Fossett told him he was going to fly south toward Highway 395, he grabbed a bottle of water and said he'd be back in an hour.
"He didn't wear his emergency locator transmitter watch and he didn't take what he called his go-bag with a cell phone and other provisions. He was wearing a t-shirt and sweat pants and it was 9am."
During the investigation in Mono County, Sheriff Scholl said that it came to light that a ranch hand had seen a plane matching the description of Fossett's craft, banking left toward Walker Lake.
Another report came from a CHP officer near Mammoth Airport, who said he saw a very low-flying plane that matched the description. Sheriff Scholl suggested checking Bodie, and a ranger there did report seeing a plane like Fossett's.
All of the data gathered goes into a central depository.