Officials with the Inyo National Forest are looking for local businesses to sign up for Emergency Incident Agreements and contracts to provide services when there is a major incident like a wildfire on the forest.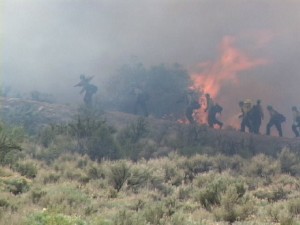 Wildfires burn through the local forest lands every year. When the fires get big, like the Inyo Complex or the Sherwin Fire near Mammoth, firefighters from other national forests arrive to help out. Firefighters have the tools to contain the blazes, but the crews need additional support supplied by the private sector.
Interagency Fire Management Officer Jeff Iler explains, Weve got the engines, crews and aircraft, what we really need from local businesses are the support items. Were looking for water trucks, refrigeration trucks, fuel trucks, pickup trucks with drivers, forklifts with operators, lunches, transports, heavy equipment, mechanics, tables and chairs, facilities, water sources for aerial operations, landing sites, quads, generators, heaters, coolers, large tents, and the list goes on and on.
Forest Supervisor Jim Upchurch explained that having additional local business involvement helps the Forest Service and the firefighters, but also has, great potential to provide local residents with more business opportunities.
Anyone interested in signing up or bidding for emergency incident contracts and agreements, should call Andrew Kong at the Owens Valley Interagency Communications Center, before January 20.The number is 873-2565.You can view more information here as well.