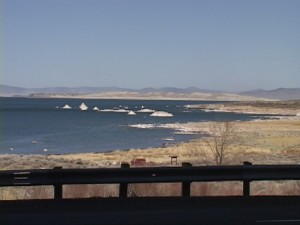 State Park staffing at Mono Lake fell off when California hit hard times in 2011 through
2013. While the economy has come back in spades, funding for park rangers at the site hasn't
and the area has suffered from the neglect and vandalism.
Former park staff and representatives from the Mono Lake Committee and Friends of
the Inyo made their case at last Tuesday's Mono Board of Supervisors' meeting. Supervisors
Bob Gardner suggested the County "could get some action by being the most annoying. The
State has a surplus," he said. "There's no reason why they can't provide the staffing."
Retired staffer Dave Marquart went into detail. When the Lake was elevated to State
Park status in the early 1980s there were a few thousand visitors with one full-time ranger and
a seasonal worker assigned.
Today, the Park draws more than 300,000 visitors overseen by one ranger assigned to
the northern stretch of the Inyos. Marquart maintained Mono Lake needs a park ranger/peace
officer with the ability to enforce the laws governing the park.
With no enforcement ranger, visitors are free to climb all over the tufa towers and leave
with bits of tufa as souvenirs. Osprey nesting areas are being disturbed as well.
Mono Lake Committee Executive Director Geoff McQuilken told the Board Mono Lake is
in the top 25-percent based on the number of visitors. "My guess is it's in the bottom 5-percent
of staffing," he said.
As the first annoying step, the Board passed a resolution in support of a full-time
Ranger/Peace Officer at Mono Lake.