By Deb Murphy
The Alabama Hills can be viewed from two different perspectives. For indigenous people and other locals, the Hills are a special place of beauty, a piece of art that took the earth eons to craft. For a growing number of visitors, it's a unique place to come and play.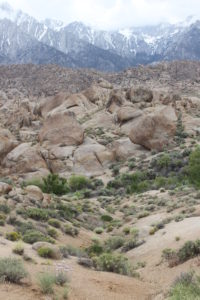 The issue facing the Bureau of Land Management and stakeholders is developing a management plan that, according to BLM Bishop Field Manager Steve Nelson, balances use and conservation.
That will take the wisdom of Solomon.
Owens Valley residents are used to looking at vast open spaces with no people in the picture. With the current dispersed camping in the Hills, local eyes see an RV as a scar on that landscape.
Currently, Nelson and the local BLM office is involved in the transfer of land to the Lone Pine Paiute Shoshone Tribe. That transfer was included in the Natural Resources Management Act that gave the Hills a National Scenic Area designation.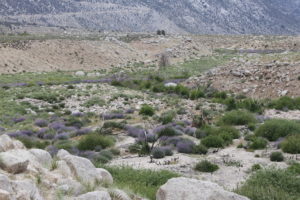 BLM will host a series of workshops and take a "collaborative approach with the Alabama Hills Stewardship Group," Nelson said. But, for now the office hasn't formulated its exact approach. He anticipates a series of workshops focused on specific topics.
"The overall land use is already done," Nelson said. "We'll focus on maintaining and improving the landscape."
Fifteen years ago, the Stewardship Group's mission statement emphasized the serenity, fragility and unspoiled nature of the area, said Kathy Bancroft, Tribal historic preservation officer for the Lone Pine Paiute-Shoshone Reservation. Since then, more visitors are flocking to the area. She tells the story of a potential zip line festival whose promotor saw massive crowds attending. Despite efforts to squash the event, the promotor showed up but was escorted out of the area for lack of a permit.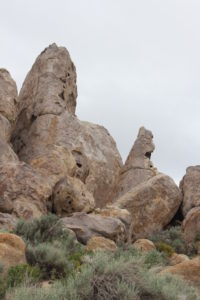 But, maintaining the serenity of the Alabama Hills is doable, she said. Education has to be part of the solution. Stewardship Group members and BLM Ranger Dave Kirk spend time on weekends talking to visitors, discouraging the spread of over-used camp sites. "Dave talks to people," she said, "and those people talk to others. But, he's only one guy."
Kirk is allowed to suggest campgrounds at Tuttle Creek, said Stewardship member Mike Prather, "but there's no requirement" for visitors to use it.
The Group focused on the Scenic Area designation because of what Prather described as a clear decline in the area, a decline that impacted visitor experience and the health of the landscape. Following a long process of community workshops, the now-legislated designation would allow existing uses but also develop a plan to manage the area.
"Visitation used to be seasonal," he said. "Now it's year round" and has reached 100,000 a year.
The Stewardship Group has replanted areas where the semi-primitive campsites have expanded. The Group will continue to do that kind of work, Prather said.
Nelson is optimistic that the final management plan will achieve the balanced goals. "It's personally important to me," he said. "I want the Hills in a good spot before I retire."