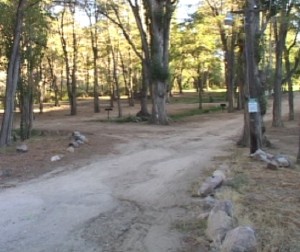 John Hooper's Rock Creek Canyon housing project will come back to the Mono Planning Commission at some point. Hooper's plans for twelve houses on one and a half acre lots drew some fire but some praise at the recent commission hearing.
Commissioners have said that they need more information on non-conforming uses, wildlife concerns and the fate of the old restaurant. Hooper's land in the old Paradise Resort area does include more than 4,000 square feet of non-conforming uses, including old RVs, trailers and cabins. He proposes to eliminate all but about 400 square feet of these non-conforming uses. To do that, Hooper applied for a General Plan Amendment.
Hooper quickly adds that he will dedicate a number of things that do not currently exist in the mostly neglected area – 5.7 acres of open space, access to the trail for bikes and hikers, a parking lot and a possible interpretive center. He says he would delete most of the non-conforming uses at the creek and add new water lines and fire hydrants.
During the October 14th meeting, Jay Jensen, who said he's a contractor, called Hooper's plans "a scheme." He claimed all the cabins should go, creating a 30-foot setback from the creek for all structures. Jensen described a personal issue. He said he gets "hammered all day long by Mono Community Development. Rules are rules," said Jensen. He seemed to think Hooper should get hammered by the rules, too.
Hooper maintains he has followed the rules and offered more above and beyond them. Paradise Fire Chief Craig Williams seemed to agree. He called Hooper's plans "a plus from what has been there." Fire Chief Williams called Hooper pro-active in working with the fire department. Williams said Hooper's plans would be "an upgrade" and a positive project.
Although the next hearing on this project was slated for November 5th, reports indicate there may be another delay.