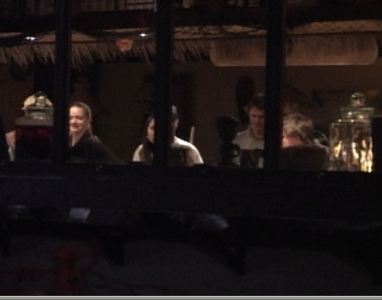 For those who wonder what police officers do in Mammoth Lakes, one officer revealed a part of it at the Police-Hispanic Committee meeting Tuesday. Officer Art Torres sustained injuries to his arm during a very tense situation at the Village. In fact, at bar closing time on Saturdays, police have to be super attentive.
I asked Police Chief Dan Watson about the ongoing Saturday night routines. He said that Saturday nights this time of year are very busy at the Village and in many parts of town. There's a lot of alcohol flowing and arrests about every week-end.
Around 2am when bars quit serving liquor, dozens and sometimes scores of customers wander out into the Village or other parts of town. That's when police make sure they are available for crowd control or, in the case of Officer Torres, to break up fights.
Chief Watson said that the incident involving Torres was reported as a fight on Minaret. Six people were slugging it out and about 15 others on the side lines ready to join in. That's when Torres was injured. Officers did break up the fight and got things back to reasonable.
Chief Watson, who spent years as a vice supervisor in Los Angeles worked areas of high bar concentration with a focus on enforcing the law on serving to drunks and to minors. Those same concerns go on in the bar scene in Mammoth Lakes.
In fact the Chief worked with Mono County Health last month to host a responsible beverage server training to make sure bar tenders and servers know the rules and how to keep someone already drunk from getting in real trouble or how to keep kids from drinking.
Watson said in his experience two things help the bar scene – responsible, on-scene management paying attention and adequate security. He said the fact that Mammoth has good, free transit helps as well as taxicabs.
Something else that likely helps – police shifts that overlap between 9pm and 2am. So, four police officers are on duty at night when the workload is far heavier.