Born 10-21-1952 to Robert and Eileen Erickson, his most adored and loved parents. Taken by God on 10-08-2016.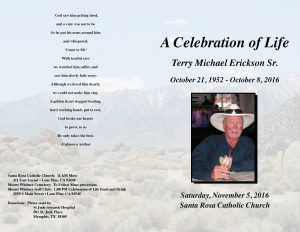 As a child, he grew up playing in the front yard with his 8 brothers and sisters, Sandy, Susan, David, Nancy, Roy, Bobbie, Anita and Steven. He loved them all.
As a young man he found hunting, fishing and fast trucks to be his passion.
His love of life and stories he would tell, whether true or just made up for fun, would make all the nieces and nephews he loved laugh and jump with joy.
His Greatest Love and legacy are his children. His dying words were, "What about my boys? Who will teach them? Terry's wife Saveria told him the great Men he raised already know, and will teach their children and so on and so on.
His Sons:
Daniel Michael Erickson: (given to God in February of 1998)
Terry Michael Erickson Jr:
A heavy equipment operator, his greatest legacy has his name and lives up to it; Father and Son. Terry Jr was his father's partner in crime – the fun things in life. When it came to building their race cars, tracking the largest buck, or just goofing off. Their bond has no words.
Travis Michael Erickson:
A welder; a man with his father's sense of humor; a great love of animals and his ability to find something to build or fabricate, out of any scrap of metal; vision that is only inherited. Terry's love for Travis brought him to tears, and joy to see his accomplishments. They would talk daily about how to fix or build things.
Charles Wallace Lloyd III:
A peace officer and business owner, together they would discuss every gun ever made; what little swindle they were going to achieve; how to hunt in the woods in Tennessee; and just what to do in the future.
These sons, these good men are Terry Senior's gifts back to the world. He would speak to them almost every day to guide them and, of course, bug them.
Terry's gifts from his children are his grandchildren:
Troy Daniel Erickson, who he would tell every day you have the greatness; it is in you; born to you. I love you grandson.
Dillon Jacob Erickson, told him he was made of love, because he was given the great gift of kindness and the ability to give with the true meaning of generosity. Grandpa loved him special.
Ashleigh Marie Lloyd, his only granddaughter; a woman of strength and giving. She sang songs with him, toddled around him. He loved her, as he said, more than life itself.
And his wife, Saveria Erickson, the love of his life and Terry the love of hers. Saveria wishes to invite all of Terry's friends and family to join them in a celebration of life.
Funeral Services:
SATURDAY, NOVEMBER 5, 2016
Santa Rosa Catholic Church: 11 AM Mass
311 East Locust – Lone Pine, CA 93545
Mount Whitney Cemetery: To Follow Mass procession
Mount Whitney Golf Club: 1:00 PM Celebration of Life, Food and Drink
2559 S. Main Street – Lone Pine, CA 93545
Donations: Please send to:
St. Jude Research Hospital
501 St. Jude Place
Memphis, TN 38105