Terri Schaaf
1933 – 2016
A funeral mass will be held at 11am Tuesday, December 20, 2016 at Our Lady of Perpetual Help Catholic Church for long-time Bishop resident, Teresa "Terri" Marie Vinez Schaaf.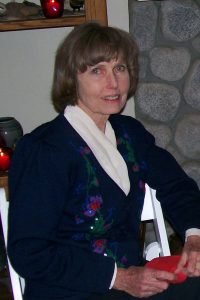 Father John Gracey will officiate the service. Inurnment will be at the West Line Street Pioneer Cemetery in Bishop. A rosary service will be held at the Brune Chapel at 6:30pm on Monday, December 19, 2016.
Born December 20, 1933 in Norman, Oklahoma to Joe and Abby Vinez, Terri passed away peacefully on December 1, 2016 at the age of 82 in LaVerne, California surrounded by her children.
Terri spent her childhood in Norman, Oklahoma leaving only when she married Raymond Schaaf on December 31, 1953. Their marriage lasted over 60 years, until Ray's death in 2014.
After their marriage, Terri moved with Ray to his home state of Oregon and began raising their children as he attended Oregon State University and embarked upon his career with the US Forest Service.
In Oregon, they lived in numerous places – Corvallis, Idlewyld Park, Tiller, Reedsport, and Medford. When their youngest was in junior high school, Terri returned to work and to her own career.
She loved her time working in the art department at Harry & David Orchards in Medford, Oregon, but left there to begin a long career in real estate. She began as an agent for Century 21 in Medford, attaining immediate success.
They moved to Bishop in 1979, where they built their dream home. After a few years, she obtained her broker's license and opened her own real estate office, High Sierra Realty. When Ray retired from the Forest Service in 1987, he joined her in the business for another twenty years, until they retired in 2007.
Whether she was perfecting her skills as a homemaker or as a realtor, Terri always brought her personal sense of style and high standards. She mastered the arts of cooking, preserving, and sewing – and passed her knowledge to her daughters.
As a realtor, her mission was to find the perfect match of people with the right home, and she loved being able to do so. She was very musical, playing piano and singing with the church choir. In her last days, listening to music was a source of great pleasure.
Terri is survived by her children David Schaaf of Roseburg, Oregon, Mark Schaaf and his wife Sarah of Portland, Oregon, Diane Smith and her husband Terry of Claremont, California, and Andrea Shallcross and her husband Jim of Bishop, California.
She is also survived by nine grandchildren: Andrew, Victoria, and Rebekah Schaaf; Craig, Alan, Russell and Juniper Schaaf; Zachary Smith, and Nicole Shallcross; and three great-grandchildren, James Schaaf, and Maurell and Blake Schaaf; as well as beloved pet and companion, Howie.