Teri Aileen Wise (aged 61) of Benton, California, passed away peacefully in her home on September 14th 2016, attended by her family.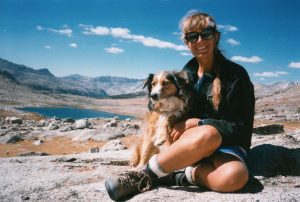 A native Californian, Teri moved to the Owens Valley in 1977 and while living in Lone Pine raised two kids, helped to build two homes and remodel another and enjoyed a variety of outdoor activities.
For more than 25 years she worked as a nurse for various agencies throughout the eastern Sierra and during that time she made many friends and found great satisfaction in helping others.
She was happiest outside in her garden, hiking in the back country or by a stream with a fishing rod and a dog. She was a talented craftswoman and enjoyed weaving and spinning wool.
She will be remembered for her beauty and the unconditional love she had for her family.
Teri's independence, endurance, and integrity are perhaps her most memorable traits—qualities that sustained her and continue to inspired her children.
She is survived by her son and daughter, Tim and Aileen Kingsley, her grandson Emmett, her longtime partner and best friend Jerry True, and numerous friends and relatives.
In lieu of flowers, the family requests that donations be made to the Northern Inyo Hospital Foundation, to support the wonderful people at the infusion clinic and the Rural Health Clinic whose kindness and respect made a difficult journey more bearable.