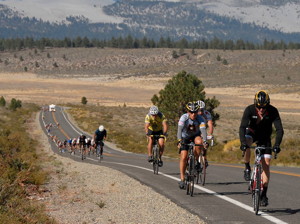 RIDERS IN TOWN AND ON THE ROAD FOR THE MAMMOTH HIGH SIERRA FALL CENTURY
Temporary road closures in place on Canyon Blvd, Main Street and US HWY 395 Saturday Sept. 7.
Mammoth Lakes is gearing up for a major road cycling event on Saturday, September 7, 2013: The Mammoth High Sierra Fall Century and Gran Fondo. There are significant changes to this popular annual road ride, starting with the location and number of participants. Organizers expect over 800 cyclists to take off from the new start/finish line on Canyon Boulevard, near The Village at Mammoth.
From 5:00 a.m. to midnight, Canyon Blvd will be closed between Lake Mary Road and Hillside Drive. From 7:00 to 8:00 a.m., there will be a rolling closure along Main Street and northbound US HWY 395 on and off ramps.
The signals at Canyon Boulevard, Lake Mary Road/Minaret Road, and Old Mammoth Roads will be flashing red. At 7:30am riders will be escorted down SR 203 to US HWY 395 at 20 mph with a CHP vehicle leading the neutralized start. At the rear of the group one Mammoth Lakes Police Department vehicle will follow the cyclist group. A rolling closure of the 19 cross streets and driveway entrances onto SR 203/Main Street will be in place, using barricades, CERT volunteers and Mammoth Mountain Ski Area employees.
Riders will continue to the junction of US HWY 395, where they pass under the highway and use the on-ramp to ride north on US HWY 395. Northbound ramps at SR 203 and US HWY 395 intersection will be closed. Traffic will be diverted north and directed to make a U-Turn. Traffic will then be directed south on US HWY 395 to enter SR 203 from the southbound ramp. Detour signs will be in place. (This is the same protocol as the 4th July Fireworks traffic plan.)
Riders proceed north on US HWY 395, turning right at Highway 120 ride eastwards to Benton Crossing Road where they turn right and ride to US HWY 395. Riders go north on US HWY 395 to The Old Highway, turn right and then merge onto SR 203, riding up Main Street and then Lake Mary Road to the finish on Canyon Boulevard.
Traffic control efforts and CHP/MLPD/Town of Mammoth Lakes staff time for the Fall Century is paid for by event organizers – compliments of Measure U funds.
Residents and visitors are encouraged to cheer riders as they head out of town in the morning and during the early afternoon as they make their way up SR 203/Main Street back to The Village at Mammoth.
For more information, please visit www.fallcentury.org.