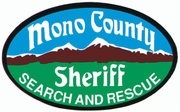 Mono County Sheriff Search & Rescue
PO Box 1954, Mammoth Lakes, CA  93546
760/934.8789 • 760/935.4309
www.monosar.org
The Mono County Sheriff Search & Rescue Team is holding a fun golf tournament to raise money to help fund a permanent facility for housing vehicles, snowmobiles, equipment, for holding meetings & trainings and for needed Equipment with the goal of better serving those who need us.
The Team is an all-volunteer organization dedicated to saving lives.  We do Search and Rescue at any time, in any weather, for as long as it takes, for free.
During the Team's 46 year history we have been without a building to store vehicles containing all our rescue gear. Vehicles have had to sit outdoors in the weather, delaying our response while we shovel snow and get them ready for emergencies.  With no location for meetings and trainings, we have had to travel around the County to find available locations often in members' homes.  Although over the last two years we were able use a temporary structure for our vehicles, the Team is looking forward to finally having a permanent structure near the Water District in Mammoth Lakes. The continuing support of the Mono County community and the visitors it serves has made this a reality.
You are invited to the annual fundraising golf tournament, to support the Team, on Sunday August 12, 2012 at the Snowcreek Golf Course in Mammoth Lakes.  Players will enjoy 18 holes of golf, breakfast and lunch, and many opportunities to win prizes and awards.
We are very grateful to the Snowcreek Resort Company as our Title Sponsor.  The Team is encouraging donations to support our goal of raising $750,000 for the construction of our new building.  We have several ways you can participate in our fund-raising tournament to support Search & Rescue:
1.  Individual: $70/person includes 18 holes of golf with cart, breakfast and lunch. Singles welcome!
2.  Player Package: $299 includes play for 4 golfers, 40 raffle tickets, and 4 mulligans
3.  Sponsor Package: $399 includes play for 4 golfers, 1 Hole Sponsor, 40 raffle tickets, and 4 mulligans
4.  $100 Hole Sponsorship (Your name or business name will be displayed on a sign at one of the tee boxes or greens and listed in the program)
5.  Donate prizes and raffle items (valued at $25 or more)
If you would like to participate on any of these levels please call one of the following people:
To register to play: Rick Dodson 661.342.2360 or [email protected]
To be a Hole Sponsor or donate raffle prizes: Barbara Barnum 805.620.2026
All proceeds from the tournament will go directly to the Search & Rescue Team's building fund.
Mono County Sheriff Search & Rescue Team is a recognized 501(c)(3) organization so all donations are tax deductible.
Sincerely,
Jutta Schmidt
Jutta Schmidt, President
Mono County Sheriff Search & Rescue