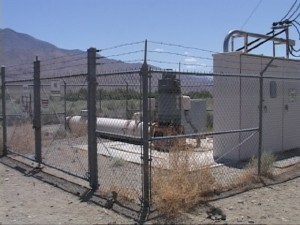 No surprise here in this story.  The Los Angeles Department of Water and Power and Inyo County continue to lock horns over groundwater pumping.   Will Inyo dispute the latest attempt by DWP to take as much groundwater as they want?  The Inyo Supervisors may decide at their December 6th meeting.
Meanwhile, the technical people will take a shot at the problem.  At one point, the Inyo Supervisors took a stand that DWP would have to reduce its 91,000 acre foot pumping plan by 8400 acre feet in the Thibaut and Aberdeen wellfields.  DWP said fine but they would add that same amount to pumping in Laws and Independence – two areas damaged considerably by pumping over the years.
At a meeting of the Inyo-LADWP Technical Group Wednesday at 1pm at DWP headquarters in Bishop, staff people will hash over the annual pumping plan.  They have given themselves a half hour since they will start another meeting at 1:30pm in the same location to talk about 16 items including pumping, Baker Creek, Klondike Lake, well permits, the Lower Owens River, the Blackrock area and more.