The reality of the War hit hard today in the Eastern when the body of 23 year old US Army Specialist Wayne Geiger of Lone Pine came home. The plane with his coffin landed at Bishop Airport this morning where scores of local people had gathered, including Geigers parents, Inyo Sheriffs Lt. Randy Geiger and Sheriffs Civil officer Kim Geiger. The young man was killed in Iraq more than a week ago.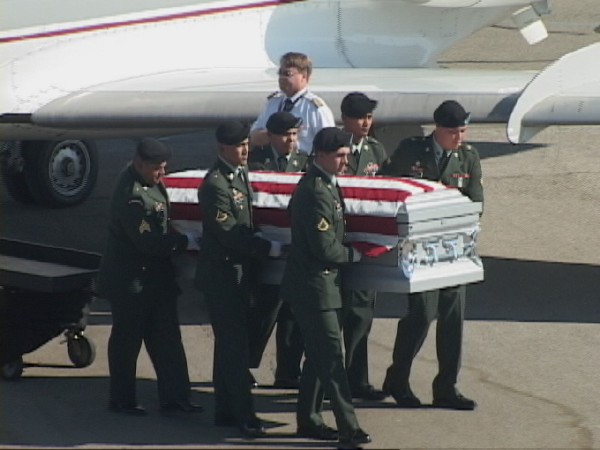 Bagpipes played as the flag-draped coffin descended.
A military honor guard from the Army stood at attention and carried Specialist Geiger to the awaiting hearse.
The crowd parted as the hearse slowly drove away to the Brune Mortuary and the crowd slowly left to follow the procession.
Saturday, a procession and motorcade will transport Geigers body from Bishop before 10:00 am, arriving at Lone Pine around 11:00 am where funeral services will take place at Lone Pine High School Gymnasium. Many are expected to speak and additional services will take place graveside at Lone Pine cemetery.
We have received many comments on our website about the young Geiger, what a fine young man he was and how he left too soon.