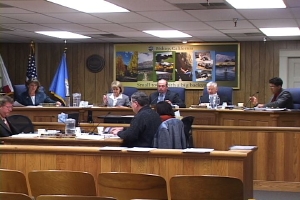 The City of Bishop Administrator calls it a proactive tax for the future. That's the possible Transaction and Use Tax increase which would raise funds to handle delayed capital improvements and give the City of Bishop a more solid financial foundation.
Administrator Keith Caldwell talked to the Inyo Supervisors about this potential tax increase and whether the County wants to join the City to present a ballot measure and raise the tax countywide. Supervisors will get back to Caldwell on that. The City of Bishop could do a ballot measure on its own. Right now, there is a countywide Transaction Use Tax. One proposal is to raise it by 1/2% up to a 1% tax. The City of Bishop would get a portion and so would the County. Caldwell planned to talk more about this with the City Council during their Study Session today at 4pm.
Caldwell pointed out that the Bishop City Council has conducted a series of budget workshops to look for ways to cut costs and raise revenues. This tax, he said, would be a benefit in hard economic times and would allow for a "proactive look to the future." He said the money, which could add up to over one million a year – it's half a million now – would pay for delayed projects, road improvements and other needs.
Also on today's City Council Study Session agenda – discussion on a Tourism Business Improvement District fee for Bishop. The TBID is what Mammoth did to assess purchases from lodging, restaurants and retail and then spend the money on marketing. The City Council will also talk about LADWP properties and economic development.
At the regular Council meeting at 7pm, officials will consider an agreement with Granicus, which is a web based service for governments. If approved, this service will make City Council meetings and commission meetings available online. The initial cost is just over $16,000 and yearly costs add up to just over $10,000.