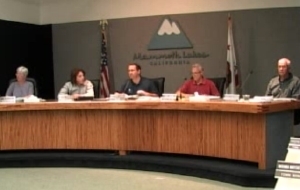 For many, Rusty Gregory's bombshell announcement at the Mammoth Town Council meeting that he would soon no longer run Mammoth Mountain Ski Area eclipsed the discussion that followed on the proposed Tourism Business Improvement District.
Gregory called it the only growth strategy for the future. He asked the Town Council to look at the BID very carefully. The people who commented were about evenly split. The TBID would assess lodging 1%, retail and restaurants 1.5%, and lift tickets and ski school, 2%. The assessment would raise $4.7 million with $2.5 million to marketing, $300,000 to PR, $150,000 to research and $50,000 to training. Around $2 million would go to air service subsidies.
Small business owners said the BID was a tax that would put them out of business. Derek Johnson of Crystal Crag and Glenn Taylor of Perry's Italian Cafe said customers can't afford the 1.5% assessment. Taylor said passing this tax onto guests would reach a bad tipping point.
Julie Fontaine, a non-business owner, said citizens will have to pay the tax. She asked that it go to a vote of the people.
Brian Ellison of Brian's Bicycles opposed it. Sports store owner Steve Hertzog supported it. Michael Ledsman, co-owner of Gomez's said it would improve mid-week and shoulder season business. Rhonda Duggan said the TBID would protect the Town's marketing dollars. She said, "It markets the whole community." Kurt Schaubmyer of Petra's said yes and so did Teri Stehlik who praised the Town marketing organization.
Long-time business owner, Paul Rudder apparently supports the BID. He said if it gives businesses one more day per week
during shoulder season, merchants will do better.
The Town Council will deal with this issue again at their July 3rd meeting where there will likely be deliberation and a vote.