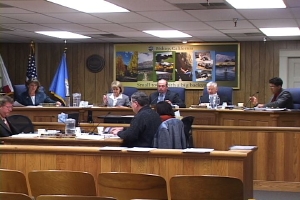 After leaving his position as Director of the Tri-County Fairgrounds, Jim Tatum took on the job of Inyo County Deputy Public Works Director. As of Monday night, Tatum now has a new job. The Bishop City Council unanimously approved a contract with Tatum for City Administrator.
When current Administrator Keith Caldwell announced he would leave his job in the fall to move back to Georgia to care for his aging parents, the Council started their search. They had received numerous applications from both local and out of the area candidates.
Prior to Monday night's Council meeting, word had spread that Tatum was the local candidate and a Colonel David Buckingham was the out of town candidate.
Tatum will serve as City Administrator/ City Clerk for the City of Bishop. His contract includes a three-year agreement at $120,000 annually. Tatum will start work for the City on August 25th. Current Administrator Caldwell will return home in early September. His last day is Friday, August 29th.