Bar-B-Q Bill's and Home Street Middle School would like to invite you to dinner.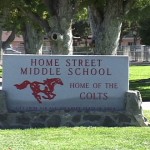 The staff at HSMS is holding a "Car-B-Que" on Friday, October 4th from 5:00 pm – 7:00 pm in the bus parking lot at the corner of Home Street and West Line.
Tickets are on sale in the Main Office or a HSMS Staff member for $12. They will offer a "Drive-Thru-Pick-Up", "Walk-Up-Pick-Up" or "outdoor dining". Your meal will include a Bar-B-Q Bill's Tri-Tip Sandwich, Beans, Potato Salad and Lemonade or Iced Tea. Hot dogs will also be on sale that evening.
Proceeds will go towards the purchase of a new laptop cart, student organizational planners, and support different clubs that accrue travel expenses including Math Counts, Academic Pentathlon, Drill Team, Color Guard, Band, AVID and sports teams.
Remember to stop by the Main Office to purchase your tickets. Any questions feel free to contact Kristin or Nicole at 872.1381. Thank you for your support. "It's Great To Be A Colt"